About Me and Colonic Hydrotherapy
Primarily I provide Colonic Hydrotherapy treatments and Cambridge Holistic Health is the trading name of me, Rebecca Downham.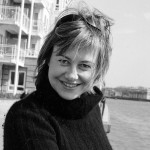 I trained with some of the UK's leading practitioners including Kitty Campion and went on to work closely with her as her senior therapist at The Campion Clinic in North London. I have also trained in Iridology, Aromatherapy, Western Herbalism and bring together all I've learned in these disciplines to provide a 360 approach to Colonic Hydrotherapy.
The treatment is a discreet and gentle process whereby old faecal matter is gently flushed from the colon wall for improved health and vitality. During the 45 minute process, approximately 60 litres of filtered warm water is gently flushed through the colon via a small speculum and in doing so carry old faecal matter away with it. I will make an assessment of your colon and treat with appropriate herbs for maximum benefit.  Your modesty is preserved at all times.
I am a fully insured and a member of ARCH, and available at my Newmarket clinic.
I'm a mum to 3 young girls and an active member of the local community.
ARCH, the Association of Registered Colonic Hydrotherapists Established 1987, click here.
Regulated by the General Regulatory Council for Complementary Heath Therapies.